< ![CDATA[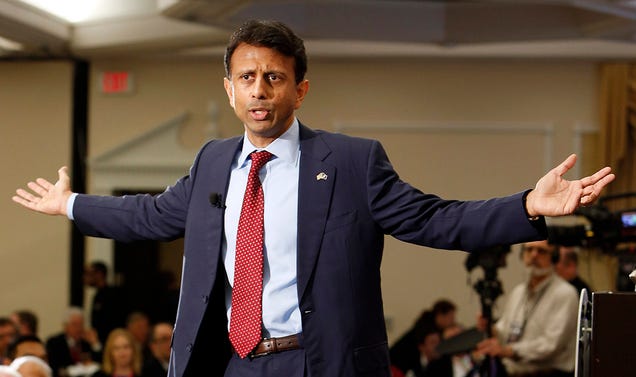 While  Louisiana Governor Bobby Jindal runs across the country with his self-delusion run for president, he leaves his minions (aka state legislators) on their own. For the past seven years Louisiana legislators haven't done anything without getting the approval of the emperor (aka Bobby Jindal). Now when they need him most he's running around embarrassing himself.
Bobby Jindal Is Less Popular Than Even Barack Obama in …

http://www.gawker.com/ Mon, 18 May 2015 10:50:00 -0700

The poll of 600 likely voters, taken last week by Southern Media & Opinion Research and highlighted by The Advocate, shows that Louisiana is one of the reddest states in the union: Republicans in Louisiana must be the most …
But what about the minions, what are they supposed to do? To stall for time they try their age
old habits of submitting hundreds of meaningless bills. They know there is little chance of these being passed, but it really looks good back home with their voters.
What's happening in the Louisiana Legislature: Day 37 …

http://www.nola.com/politics/ Mon, 18 May 2015 04:00:00 -0700

The Louisiana Legislature enters its sixth week with a number of budget-related bills on Monday's (May 18) agenda. Here's what happened at the end of last week As legislators work out a compromise on Common Core, Gov.
But there is some good news. All the mess created by Governor Jindal and the Louisiana legislature provides ample ammunition for the four governortorial candidates looking to replace him. They've been hiding in the bushes for the past 4 years, but now that Jindal is a toothless tiger, they can bash him and explain how these things "would never happen" under their watch.
Where do Louisiana's four major gubernatorial candidates …

http://www.nola.com/politics/ Mon, 18 May 2015 11:45:51 -0700

At a recent event organized by Gary Rispone, co-host of the Paradise Louisiana television show, a group of outdoor writers interviewed Louisiana's four prominent gubernatorial candidates to get their positions on topics …
Higher Education and Healthcare in Louisiana remain barely standing. When will someone finally step up and make the hard decisions for both of these vitally important things? In all probability "smoke & mirrors" will be used make us believe the budget has actually been balanced. We Louisiana votes allow this to happen again? Only time will tell.
p.s. perhaps "Mary Jane" is the answer!
Louisiana marijuana laws: Bill reducing penalties advances

http://www.mysteryweedshopper.com/ Thu, 14 May 2015 09:06:06 -0700

With the narrowest of votes, the Louisiana House voted to lower the maximum sentence for repeat marijuana possession from 20 years to eight years.
]]>